Performance online coaching
Sample my online personal training for 14 days, completely free.
The program includes a full array of workout programs, from resistance training to cardio and active rest sessions, giving you a bespoke exercise schedule.
try it and see for yourself!
Sign-up for my no commitment 14 day free trial below to start your journey! 
Check out these recent results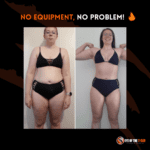 Check out this phenomenal progress photo of my client who has been training with me twice a week, even through lockdown (we have adapted to zoom).

Through several injuries and ongoing sickness, as well as being a single mum to two girls, her success really makes me think "what's my excuse!?"